Impacto de la acreditación y la certificación de los laboratorios clínicos y el aseguramiento de la calidad
Palabras clave:
acreditación, control de calidad, certificación, Normas ISO.
Resumen
Tanto la certificación como la acreditación de laboratorios clínicos son procesos importantes para garantizar la calidad y la confiabilidad de los resultados de las pruebas médicas, la certificación es un proceso voluntario que evalúa la calidad y competencia técnica del laboratorio clínico en base a un conjunto de normas establecidas, mientras que la acreditación es un proceso de evaluación y reconocimiento de la competencia técnica y calidad del laboratorio clínico por una organización independiente, basado en estándares internacionales y en la evaluación de los procesos del laboratorio, la formación y capacitación del personal, la gestión de la calidad y la seguridad del paciente. El objetivo de la presente revisión fue analizar la prevalencia del impacto de la acreditación y la certificación de los laboratorios clínicos y constatar el aseguramiento de la calidad, dentro de los procedimientos realizados en el mismo y como esto aporta confiabilidad a los laboratorios clínicos. Se uso una metodología de diseño de revisión sistemática documental y el tipo de estudio del estudio es documental, bibliográfico. Los resultados revelan que la cantidad de laboratorios acreditados y certificados es muy limitada, específicamente dentro de la región norteamericana se observan la mayor cantidad de laboratorios acreditados y certificados. La acreditación y certificación de los laboratorios clínicos, es una parte necesaria dentro del sistema de gestión ya que se encarga de evaluar la competencia técnica que deben de tener estas instituciones dedicadas al diagnóstico.
Citas
Thomas RE, Vaska M, Naugler C, Turin TC. Interventions at the laboratory level to reduce laboratory test ordering by family physicians: Systematic review. Clin Biochem. diciembre de 2015;48(18):1358-65.
Plebani M. Clinical laboratories: production industry or medical services? Clin Chem Lab Med. junio de 2017;53(7):995-1004.
Schroeder LF, Guarner J, Amukele TK. Essential Diagnostics for the Use of World Health Organization Essential Medicines. Clin Chem. agosto de 2018;64(8):1148-57.
Velazquez Berumen A, Garner S, Hill SR, Swaminathan S. Making diagnostic tests as essential as medicines. BMJ Glob Health. 2018;3(4):001033.
Delis H, Christaki K, Healy B, Loreti G, Poli GL, Toroi P, et al. Moving beyond quality control in diagnostic radiology and the role of the clinically qualified medical physicist. Phys Med. septiembre de 2017;41:104-8.
Mourya DT, Yadav PD, Khare A, Khan AH. Certification & validation of biosafety level-2 & biosafety level-3 laboratories in Indian settings & common issues. Indian J Med Res. octubre de 2017;146(4):459-67.
Theodorsson E. Quality Assurance in Clinical Chemistry: A Touch of Statistics and A Lot of Common Sense. J Med Biochem. abril de 2016;35(2):103-12.
Krasowski MD. Educational Case: Regulatory Issues With Laboratory Testing. Academic Pathology. 1 de enero de 2019;6:2374289519877549.
Pillai RK, Lopategui JR, Dhall D, Guindi M, Slavin T, Lofton-Day CE, et al. The State of the Art in Colorectal Cancer Molecular Biomarker Testing. Advances in Anatomic Pathology. marzo de 2016;23(2):92-103.
Keppens C, Tack V, Hart N 't, Tembuyser L, Ryska A, Pauwels P, et al. A stitch in time saves nine: external quality assessment rounds demonstrate improved quality of biomarker analysis in lung cancer. Oncotarget. 17 de abril de 2018;9(29):20524-38.
Bayot ML, Brannan GD, Naidoo P. Clinical Laboratory. En: StatPearls [Internet]. Treasure Island (FL): StatPearls Publishing; 2022 [citado 8 de diciembre de 2022]. Disponible en: http://www.ncbi.nlm.nih.gov/books/NBK535358/
Bayot ML, Limaiem F. Biosafety Guidelines. En: StatPearls [Internet]. Treasure Island (FL): StatPearls Publishing; 2022 [citado 8 de diciembre de 2022]. Disponible en: http://www.ncbi.nlm.nih.gov/books/NBK537210/
Sales MM, Taniguchi LU, Fonseca LAM, Ferreira-Junior M, Aguiar FJB, Sumita NM, et al. Laboratory Tests Ordering Pattern by Medical Residents From a Brazilian University Hospital. Am J Clin Pathol. diciembre de 2016;146(6):694-700.
World Health Organization. Laboratory Quality Assurance and Safety [Internet]. Guidelines for Using HIV Testing Technologies in Surveillance: Selection, Evaluation and Implementation: 2009 Update. World Health Organization; 2019 [citado 8 de diciembre de 2022]. Disponible en: https://www.ncbi.nlm.nih.gov/books/NBK305273/
Gass JD, Misra A, Yadav MNS, Sana F, Singh C, Mankar A, et al. Implementation and results of an integrated data quality assurance protocol in a randomized controlled trial in Uttar Pradesh, India. Trials. 7 de septiembre de 2017;18(1):418.
Hooper JE, Richardson H, Maters AW, Carroll KC, Pronovost PJ. The Association of Departmental Quality Infrastructure and Positive Change: A Pathology Department Illustration. Acad Pathol. 2018;5:2374289517744753.
Wanger A, Chavez V, Huang RSP, Wahed A, Actor JK, Dasgupta A. Chapter 1 - Laboratory Management and Administration. En: Wanger A, Chavez V, Huang RSP, Wahed A, Actor JK, Dasgupta A, editores. Microbiology and Molecular Diagnosis in Pathology [Internet]. Elsevier; 2017 [citado 8 de diciembre de 2022]. p. 1-10. Disponible en: https://www.sciencedirect.com/science/article/pii/B9780128053515000016
Keßler W, Heidecke CD. Dimensions of Quality and Their Increasing Relevance for Visceral Medicine in Germany. Visc Med. mayo de 2017;33(2):119-24.
Salehi A, Jannati A, Nosratnjad S, Heydari L. Factors influencing the inpatients satisfaction in public hospitals: a systematic review. Bali Medical Journal. 15 de abril de 2018;7(1):17-26.
Betlloch-Mas I, Ramón-Sapena R, Abellán-García C, Pascual-Ramírez JC. Implementation and Operation of an Integrated Quality Management System in Accordance With ISO 9001:2015 in a Dermatology Department. Actas Dermosifiliogr (Engl Ed). marzo de 2019;110(2):92-101.
Aggarwal A, Aeran H, Rathee M. Quality management in healthcare: The pivotal desideratum. J Oral Biol Craniofac Res. 2019;9(2):180-2.
Galvagno SM, Nahmias JT, Young DA. Advanced Trauma Life Support® Update 2019: Management and Applications for Adults and Special Populations. Anesthesiol Clin. marzo de 2019;37(1):13-32.
Maritz R, Scheel-Sailer A, Schmitt K, Prodinger B. Overview of quality management models for inpatient healthcare settings. A scoping review. Int J Qual Health Care. 1 de julio de 2019;31(6):404-10.
Attoh S, Tetteh FKM, McAddy M, Ackah K, Kyei R, Moroti M, et al. Challenges with the pursuit of ISO 15189 accreditation in a public health laboratory in Ghana. Afr J Lab Med. 2022;11(1):1448.
Attoh S, Fatchu R, Kodjoe I, Owusu R, Boateng C, Yakubu AM, et al. Article Title: Lessons learnt in the attainment of international laboratory accreditation. The story of the first public sector laboratory to be accredited despite resource limitations. Short Title: LESSONS FROM THE FIELD: ACCREDITATION OF THE FIRST PUBLIC SECTOR LABORATORY IN GHANA. Article Title: LESSONS FROM THE FIELD: ACCREDITATION OF THE FIRST PUBLIC SECTOR LABORATORY IN GHANA. 2018 mar.
Girma M, Desale A, Hassen F, Sisay A, Tsegaye A. Survey-Defined and Interview-Elicited Challenges That Faced Ethiopian Government Hospital Laboratories as They Applied ISO 15189 Accreditation Standards in Resource-Constrained Settings in 2017. Am J Clin Pathol. 30 de agosto de 2018;150(4):303-9.
Brown K, Duzan D, Fong K, Freeman VS, Genzen J, Goodyear N, et al. ASCP Board of Certification Survey of Medical Laboratory Science Education 2020: Programs. Lab Med. 3 de noviembre de 2022;53(6):e154-8.
Ssengooba W, Gelderbloem SJ, Mboowa G, Wajja A, Namaganda C, Musoke P, et al. Feasibility of establishing a biosafety level 3 tuberculosis culture laboratory of acceptable quality standards in a resource-limited setting: an experience from Uganda. Health Res Policy Syst. 15 de enero de 2015;13:4.
Plebani M, Sciacovelli L. ISO 15189 Accreditation: Navigation Between Quality Management and Patient Safety. J Med Biochem. 14 de julio de 2017;36(3):225-30.
Pradella M. ISO 22367 and risk management in medical laboratories - La Rivista Italiana della Medicina di Laboratorio 2019 Settembre;15(3):237-8. 2019 [citado 9 de diciembre de 2022]; Disponible en: https://www.minervamedica.it/en/journals/medicina-laboratorio/article.php?cod=R54Y2019N03A0237
Zima T. Accreditation of Medical Laboratories – System, Process, Benefits for Labs. J Med Biochem. 14 de julio de 2017;36(3):231-7.
Kim JH, Choi EJ, Hwang G, Lee JH, Han MS. Survey and Solutions for the Current Status of Quality Control in Small Hospital Laboratories. Journal of Laboratory Medicine and Quality Assurance. 30 de junio de 2018;40(2):101-8.
Wilson IG, Smye M, Wallace IJC. Meta‐audit of laboratory ISO accreditation inspections: measuring the old emperor's clothes. Microbiologyopen. 1 de diciembre de 2015;5(1):95-105.
Weykamp C, Secchiero S, Plebani M, Thelen M, Cobbaert C, Thomas A, et al. Analytical performance of 17 general chemistry analytes across countries and across manufacturers in the INPUtS project of EQA organizers in Italy, the Netherlands, Portugal, United Kingdom and Spain. Clin Chem Lab Med. 1 de febrero de 2017;55(2):203-11.
Branca M, Longatto-Filho A. Recommendations on Quality Control and Quality Assurance in Cervical Cytology. Acta Cytol. 2015;59(5):361-9.
Griffin A, McKeown A, Viney R, Rich A, Welland T, Gafson I, et al. Revalidation and quality assurance: the application of the MUSIQ framework in independent verification visits to healthcare organisations. BMJ Open. 14 de febrero de 2017;7(2):e014121.
Mort E, Bruckel J, Donelan K, Paine L, Rosen M, Thompson D, et al. Improving Health Care Quality and Patient Safety Through Peer-to-Peer Assessment: Demonstration Project in Two Academic Medical Centers. Am J Med Qual. 2017;32(5):472-9.
Lawati MHA, Dennis S, Short SD, Abdulhadi NN. Patient safety and safety culture in primary health care: a systematic review. BMC Fam Pract. 30 de junio de 2018;19(1):104.
Etchegaray JM, Thomas EJ. Engaging Employees: The Importance of High-Performance Work Systems for Patient Safety. J Patient Saf. diciembre de 2015;11(4):221-7.
Manzanera R, Moya D, Guilabert M, Plana M, Gálvez G, Ortner J, et al. Quality Assurance and Patient Safety Measures: A Comparative Longitudinal Analysis. Int J Environ Res Public Health. agosto de 2018;15(8):1568.
Maruta T, Shumba E, Ndlovu N, Moyo S, Bangure D, Kebede Y, et al. Implementation of COVID-19 Laboratory Testing Certification Program (CoLTeP) in African Region. Front Public Health. 4 de julio de 2022;10:919668.
Chiou PZ, Jia Y. Influence of Certification on a Pathology Laboratory Professional's Career Mobility. American Journal of Clinical Pathology. 1 de junio de 2022;157(6):942-7.
Sidiropoulos N, Daley SK, Briggs M, Fernandes H, Lockwood CM, Mahmoud AZ, et al. Most Frequently Cited Accreditation Inspection Deficiencies for Clinical Molecular Oncology Testing Laboratories and Opportunities for Improvement. Archives of Pathology & Laboratory Medicine. 19 de abril de 2022;146(12):1441-9.
Odhiambo CO, van der Puije B, Maina M, Mekonen T, Diallo S, Datema T, et al. Examining 7 years of implementing quality management systems in medical laboratories in sub-Saharan Africa. Trop Med Int Health. 8 de diciembre de 2022;
Musau SK, Mwachari C, Kirui E, Muthoni J, Lascko T, Blanco N, et al. Implementing an intensified mentorship approach towards accelerated medical laboratory accreditation in 10 counties in Kenya. Afr J Lab Med. 2022;11(1):1814.
Quesada-Yamasaki D, Zeledón-Mayorga R, Quesada-Yamasaki D, Zeledón-Mayorga R. (Ine)quality in Healthcare: a perspective from the accreditation of clinical laboratories in Costa Rica. Población y Salud en Mesoamérica. junio de 2022;19(2):25-42.
Matovu M, Musiime E, Olak P, Mulindwa M, Namisango E, Songwe K. Impact of accreditation on health care services performance in Kiryandongo district, Uganda: a longitudinal study. BMC Health Services Research. 10 de febrero de 2022;22(1):174.
Pessoa VRA, Rios DRA. Acreditação e certificação nos laboratórios clínicos no Brasil: um panorama atual. Brazilian Journal of Health and Pharmacy [Internet]. 10 de noviembre de 2022;4(3). Disponible en: https://www.bjhp.crfmg.org.br/crfmg/article/view/175
Abhijith D, Kusuma KS, Suma MN. Laboratory accreditation and customer satisfaction. APIK Journal of Internal Medicine. 1 de enero de 2021;9(1):25.
Khadambi-Morokane H, Bhowan K, Ayuk S. An overview of medical diagnostic laboratories in South Africa that meet the international standard of accreditation: ISO 15189. Journal of Medical Laboratory Science & Technology of South Africa. 31 de mayo de 2021;3(1):27-35.
Daka V, Mubanga M, Mukanga B, Mfune RL, Chileshe M, Machiko A, et al. Challenges that may impact achieving and maintaining accreditation in clinical laboratories in Zambia during the COVID-19 pandemic. Pan Afr Med J. 1 de enero de 2021;38:290.
Franić Z, Bituh T, Godec R, Čačković M, Meštrović T, Šiško J. Experiences with the accreditation of the Institute for Medical Research and Occupational Health, Zagreb, Croatia. Archives of Industrial Hygiene and Toxicology. 30 de noviembre de 2020;71(4):312-9.
Adane K, Girma M, Deress T. How Does ISO 15189 Laboratory Accreditation Support the Delivery of Healthcare in Ethiopia? A Systematic Review. Ethiop J Health Sci. marzo de 2019;29(2):259-64.
Chenlo PH, Curi SM, Pugliese MN, Avendaño C, Munuce MJ, Ariagno JI, et al. Acreditación de los laboratorios de Andrología en la República Argentina. Acta bioquímica clínica latinoamericana. septiembre de 2019;53(3):315-21.
Carboni-Huerta R, Sáenz-Flor K. Acreditación ISO 15189 en América Latina: Percepción en laboratorios de la región. Rev Mex Patol Clin Med Lab. 29 de octubre de 2019;66(3):143-53.
Makokha EP, Ondondo RO, Kimani DK, Gachuki T, Basiye F, Njeru M, et al. Enhancing accreditation outcomes for medical laboratories on the Strengthening Laboratory Management Toward Accreditation programme in Kenya via a rapid results initiative. Afr J Lab Med. 31 de mayo de 2022;11(1):1614.
León Peña MC, Madariaga Vega Z, Stefanell De León I. Estándares de calidad de los laboratorios de las Empresas Sociales del Estado en el departamento del Atlántico. Investigación e Innovación en Ingenierías. 2022;10(2):1-10.
van Rossum HH. Technical quality assurance and quality control for medical laboratories: a review and proposal of a new concept to obtain integrated and validated QA/QC plans. Critical Reviews in Clinical Laboratory Sciences. 17 de noviembre de 2022;59(8):586-600.
Kirwan JA, Gika H, Beger RD, Bearden D, Dunn WB, Goodacre R, et al. Quality assurance and quality control reporting in untargeted metabolic phenotyping: mQACC recommendations for analytical quality management. Metabolomics. 27 de agosto de 2022;18(9):70.
Garcia E, Kundu I, Fong K. American Society for Clinical Pathology's 2019 Wage Survey of Medical Laboratories in the United States. American Journal of Clinical Pathology. 1 de mayo de 2021;155(5):649-73.
Badrick T. Integrating quality control and external quality assurance. Clin Biochem. septiembre de 2021;95:15-27.
Estevez MS, Espinosa Y, Ezquerro I, Lorini AL. Sistema de Gestión de Calidad: aplicación en la detección de fallas de un equipo del área de Química Clínica y su recambio. Revista Bioquímica y Patología Clínica. 2020;84(3):15-8.
Schreier J, Feeney R, Keeling P. Diagnostics Reform and Harmonization of Clinical Laboratory Testing. The Journal of Molecular Diagnostics. 1 de septiembre de 2019;21(5):737-45.
Beyanga M, Gerwing -Adima Lisa, Jackson K, Majaliwa B, Shimba H, Ezekiel S, et al. Implementation of the laboratory quality management system (ISO 15189) : experience from Bugando Medical Centre Clinical Laboratory – Mwanza, Tanzania. African Journal of Laboratory Medicine. enero de 2018;7(1):1-6.
Shcolnik W. Uso racional del laboratorio y mejora de la calidad. Rev Mex Patol Clin Med Lab. 24 de agosto de 2018;65(2):90-1.
Provedo YL, Viera IC, Álvarez AC, Cano MT. Aseguramiento de la calidad en laboratorios vinculados con la genética médica. Rev Cub Gen. 2018;12(3). Disponible en: https://www.medigraphic.com/cgi-bin/new/resumen.cgi?IDARTICULO=101065
San Miguel Hernández A, de la Fuente Alonso P, Garrote Adrados JA, Lobo Valentin R, Lurueña ML, Eiros Bouza JM. Minimización de errores preanalíticos y su repercusión en el control del laboratorio clínico. Revista del Laboratorio Clínico. 1 de enero de 2018;11(1):51-8.
De la Salle B, Meijer P, Thomas A, Simundic AM. Special issue on External Quality Assessment in Laboratory Medicine – current challenges and future trends. Biochem Med (Zagreb). 15 de febrero de 2017;27(1):19-22.
Chávez Anastacio DI. Nivel de cumplimiento de la norma ISO 15189:2012 en el laboratorio de hematología y laboratorio de coagulación, Instituto Nacional de Enfermedades Neoplásicas, Lima 2016. Universidad César Vallejo. 2016; Disponible en: https://repositorio.ucv.edu.pe/handle/20.500.12692/7020
Solis-Rouzant P. Experience of Implementing ISO 15189 Accreditation at a University Laboratory. EJIFCC. 27 de noviembre de 2015;26(4):270-3.
Carey RB, Bhattacharyya S, Kehl SC, Matukas LM, Pentella MA, Salfinger M, et al. Practical Guidance for Clinical Microbiology Laboratories: Implementing a Quality Management System in the Medical Microbiology Laboratory. Clinical Microbiology Reviews. 2 de mayo de 2018;31(3):e00062-17.
Gassner UM, Modi JN, Ponader A, Ruf S. Legal aspects of storage and transmission of laboratory results. Journal of Laboratory Medicine. 1 de diciembre de 2018;42(6):243-9.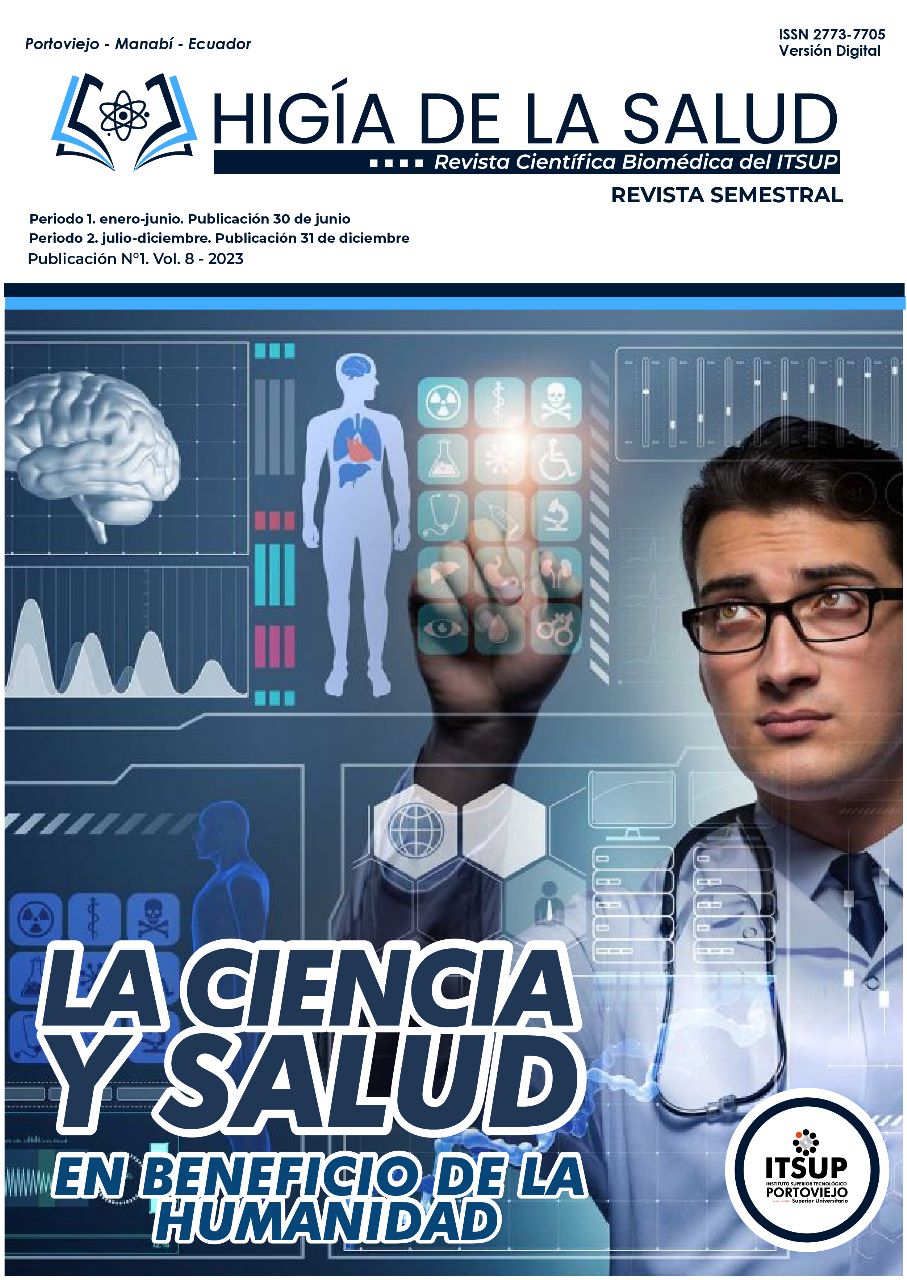 Descargas
Cómo citar
Rosero Ordoñez, A. K., Pincay Francis, A. A. ., & Solorzano Holguín, L. S. (2023). Impacto de la acreditación y la certificación de los laboratorios clínicos y el aseguramiento de la calidad. Revista Científica Higía De La Salud, 8(1). https://doi.org/10.37117/higia.v8i1.804
Licencia
Derechos de autor 2023 Angela Katerine Rosero Ordoñez, Andrea Angelina Pincay Francis, Lilibeth Stefany Solorzano Holguín
Esta obra está bajo una licencia internacional Creative Commons Atribución-NoComercial-SinDerivadas 4.0.
El Copyright posee el propósito de proteger tanto la propiedad intelectual de los autores como sus resultados. El comité editorial de la Revista Sinapsis se compromete con los autores a proteger, defender y preservar tanto su trabajo como su reputación, y toma muy en serio las acusaciones de infracción, plagio, disputas éticas y fraude. Si un autor se da cuenta de un posible plagio, copia de resultados, fraude o infracción, le rogamos que se comunique con la mayor brevedad posible con el comité editorial de la revista Sinapsis.
CC BY-NC-ND: esta licencia permite a los reutilizadores copiar y distribuir el material en cualquier medio o formato solo sin adaptarlo, solo con fines no comerciales y siempre que se le atribuya al creador.
Términos de Licencia:
Reconocimiento: debe otorgar el crédito correspondiente, proporcionar un enlace a la licencia e indicar si se realizaron cambios. Puede hacerlo de cualquier manera razonable, pero no de ninguna manera que sugiera que el licenciante lo respalda a usted o su uso.
No comercial: no puede utilizar el material con fines comerciales.
No Derivada: si remezcla, transforma o construye sobre el material, no puede distribuir el material modificado.
Sin restricciones adicionales: no puede aplicar términos legales o medidas tecnológicas que restrinjan legalmente a otros de hacer cualquier cosa que permita la licencia.
El autor esta en la obligación de seguir las exigencias según lo instruido en la licencia ubicada en el enlace: https://creativecommons.org/licenses/by-nc-nd/4.0/deed.es